Searching google with - "SEO marketing company near me"! Endlessly checking Digital Marketing websites for one break through! We know the drill.
We all have gone through this 'been-there-done-that situation while hunting for the best SEO agency, but is that the right way to do it? Everyone who's been a part of this quest knows that it's not an easy task to nail. Because, when it comes to selecting a reliable company to handle your search engine optimisation services, there are many ways, both suitable and some not so suitable ones. It is up to you which one to go about with.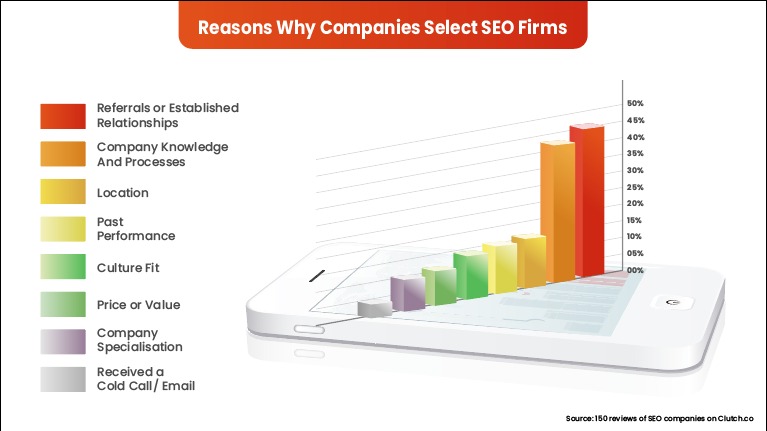 In today's blog, we'll discuss typical traps to avoid and steps to follow when hiring an SEO service provider or consultant. Take heed, SEO enthusiasts: there are some astonishing suggestions for marketing yourself to clients here.
Factors To Review
Through our past experiences, we have noticed many factors that clients focus on while reviewing a company or allocating them for the job. There are 7 of these which repeat themselves almost always;
Specialities & Services
Customer Reviews, Testimonials & References
Location & Ethics
Contracts & Pricing
Tenure of Experience
Portfolio, Client Examples or Case studies
Follow & Subscribe Rate
Noticed something? To be more precise, businesses choose an SEO agency based largely on these considerations instead of the most important factor - knowledge and performance. Yet, ironically, these are not considered adequate due diligence before entering into a relationship.
Step One: Don't Get To Hunting Right Away
Once you are done with the internal team meets to sketch out requirements and goals, the first thing to do is check all your potential sources. Personal and professional networks can be an excellent source of information and help you find the right set of options when you ask them who they recommend. They can also pose as the most reliable source as you can expect only honest opinions from them.
Step Two: Remember That Performance Matters
Selecting a reputable SEO firm to help you achieve your business growth objectives is the main agenda. Just like your customers who look at your company's past work to see if you can deliver, it would be best if you did the same while selecting an SEO firm. You need to look for factors that add to the SEO team's performance before hiring them. Examine their previous performance via portfolio samples, case studies, client testimonials, company profile, industry awards they achieved, and certifications the SEO expert has received. With actual proof that backs up the expertise of an SEO agency's effectiveness, your company can confidently enter into a consultation or collaboration.
Final Step: Follow Content Creators Online
There is a good amount of chance that you follow different Industry Insiders on social media for their creativity, so why not do the same for blogs and websites as well. Also, follow popular networks and content creators for SEOs to get a good glimpse of the content they post or promote. This will assist you in making a wise judgment while knowing what they are actually capable of doing. You can even reach out to some of those influential insiders without having to go through the perpetual pursuit.
To wrap up, here's the list of critical takeaways while looking for a suitable SEO company are:
Look for evidence of successful past performance
Look for solid transparency and reporting
Look for deep-rooted customer support and quick attention
Look for a customised package for fair pricing
Look for specialisation in the service as per your device
Think First Digital is credited as one of the best SEO specialist companies in Mumbai. We provide professional seo services in India and abroad while helping our clients accomplish their online marketing goals. So, if you are interested in hiring an in-house SEO manager minus all the hassles, click here.